Call A Lance Bingham, P.C. Aviation Accident Lawyer Today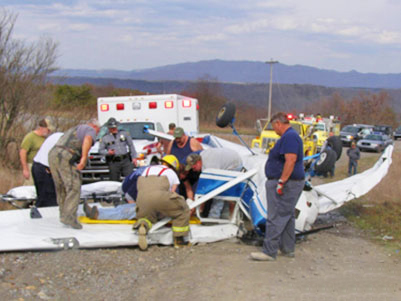 If you or a loved one have been injured in an aviation accident in Salt Lake City or elsewhere in Utah, call a Lance Bingham Law aviation accident lawyer today for a free consultation. Our aircraft accident attorneys have successfully handled multiple airplane and other aircraft cases in Utah, within the United States, and other countries, including several Central American countries.
Air travel is considered by most to be a safer means of transportation than automobile travel, but air traffic is expected to double over the next 20 years, according to the Federal Aviation Administration (FAA). This increase will undoubtedly raise the risk and frequency of aviation/aircraft accidents.
Aviation litigation is extremely complex. Multiple defendants and at-fault parties are usually involved in a single airplane crash. Our aircraft accident attorneys in Utah will provide you and your family with much needed legal support and guide you through this complex process.
Call Today For A Free Consultation
Why Choose Lance Bingham, P.C. For Your Aviation Accident Law Firm
Cases are handled by actual attorneys.
What makes Lance Bingham, P.C. unique compared to other aviation accident law firms in Utah is the fact that our aircraft accident attorneys handle each case personally. Large law firms in Utah have been known to take on more cases than they can handle, which is why most attorneys will hand off a case to a case manager or a paralegal.
Lance Bingham, P.C. is not a volume-focused practice.
Our Utah aviation accident lawyers want to ensure that they are able to dedicate the necessary time and focus on your case to maximize value, not to give your case to those with less experience.
Our Salt Lake City-based aviation accident lawyers aim to recover full compensation for airplane accident victims and their families brought upon by negligence or faulty products. The Utah aviation accident lawyers at Lance Bingham Law will ensure that you receive the necessary legal support during this critical time and will never hide costs or fees from you. Lance Bingham, P.C. takes responsibility for the financial risk. There are never any hidden costs, and we will not charge a fee unless we recover for you.
Our Utah Aviation Accident Lawyers Make Home and Hospital Visits
To ensure that aviation accident victims and their families receive immediate legal assistance, a Lance Bingham Law Utah aviation accident lawyer will travel to you. The Lance Bingham, P.C. office is located in Salt Lake City, but our aircraft accident lawyers will travel to your home or hospital anywhere in Utah. We understand the difficulty of dealing with this type of accident, so our aviation accident law firm wants to make this process as convenient as possible for you and your family. It is extremely important to build a case as soon as possible, which is why an aircraft accident lawyer will visit you at your home or the hospital throughout the entire legal process.
Schedule A Free Consultation Today
Protections For Airline Passengers
In the United States, two government agencies regulate air travel and investigate every commercial and general aviation accidents:
The National Transportation Safety Board (NTSB): The NTSB is in charge of investigating every civil aircraft accident and recommending safety standards to prevent future accidents.
Federal Aviation Administration (FAA): The FAA sets legal safety standards for pilot conduct, flight operations, and aircraft manufacturers. It enforces FAA regulations through civil and sometimes criminal penalties
Steps To Receive Compensation
In order to hold a party responsible for an airplane accident, the plaintiff must prove that the defendant failed to meet the legal standard of operating the aircraft either by negligence, products liability, or some combination of the two. This can be related to engineering, maintenance, or other operational issues or standards. In addition, because air travel is regulated by two federal agencies within the United States and other local governmental agencies outside of the U.S., these rules and regulations may impact a personal injury claim or the standard of care legally owed to the victim of an aviation accident.
Pilots, aircraft owners, common carriers, airline maintenance providers, and major airlines are among those subject to claims whenever an aviation accident occurs. In addition, product liability claims may be made against manufacturers and sellers of defective aircraft and other aviation products.
Aircraft owners are held to a high standard of care. If carelessness or recklessness can be proven, then the aircraft owner will be held liable for the damages suffered by injured parties, including passengers, people on the ground, and even the pilot(s) and crew. Even if the aircraft owner was not operating the aircraft when the aviation accident occurred, the owner may still be held liable under a legal theory called vicarious liability. It is similar to how automobile owners are responsible for the actions of the driver of the automobile they own.
Jurisdictions will differ as to what damages may be recovered and what proof is required for each category. Some states also impose "caps" (having changed tort law under the duplicitous, pro-corporate/anti-citizen banner of "tort reform") on certain categories of damages, thereby limiting a potential recovery.
The trusted team of experienced Utah aviation accident lawyers at Lance Bingham, P.C. can identify the best jurisdiction and present a victim's damages in order to ensure just and fair compensation for injuries sustained through aviation accidents and airline disasters.